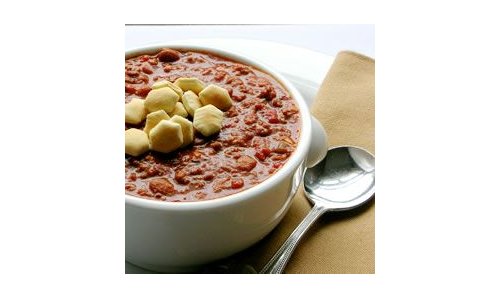 Rainy Day Chili
Ingredients
1 lb. ground beef or turkey*
3 (15 oz.) cans diced tomatoes with green chiles
2 (15 oz.) cans beans, drained (black beans, kidney beans, a combo, or whatever you like)
1 small white onion, diced
2 Tbsp. chili powder
(optional toppings: shredded cheese, chopped green onions, sour cream, cilantro, etc.)
Method
In a large stockpot, cook ground beef or turkey over medium-high heat until browned, stirring frequently. Add remaining ingredients and stir to combine. Bring to a boil, then reduce heat to medium-low, cover, and simmer for 15 minutes or until the onion is cooked and softened.
Serve warm with additional toppings if desired.
*If using ground turkey, you may need to heat a tablespoon of olive oil beforehand to help cook and brown the turkey.